Introduction to Sri Lanka
Ready to discover an island with abundant natural beauty, a rich culture dating back millennia and a wealth of wildlife? With its national parks, tea-leaf covered hillsides and ancient architecture, Sri Lanka is an exceptional country for a holiday.
For its relatively small size, Sri Lanka is one of the most diverse countries in the world, home to everything from white sand beaches to verdant rainforests and dramatic mountains. Foodies will relish the mouth-watering array of curries and distinctive local dishes. Combined with the welcome of exceptionally warm and friendly people, a trip to Sri Lanka is truly unforgettable.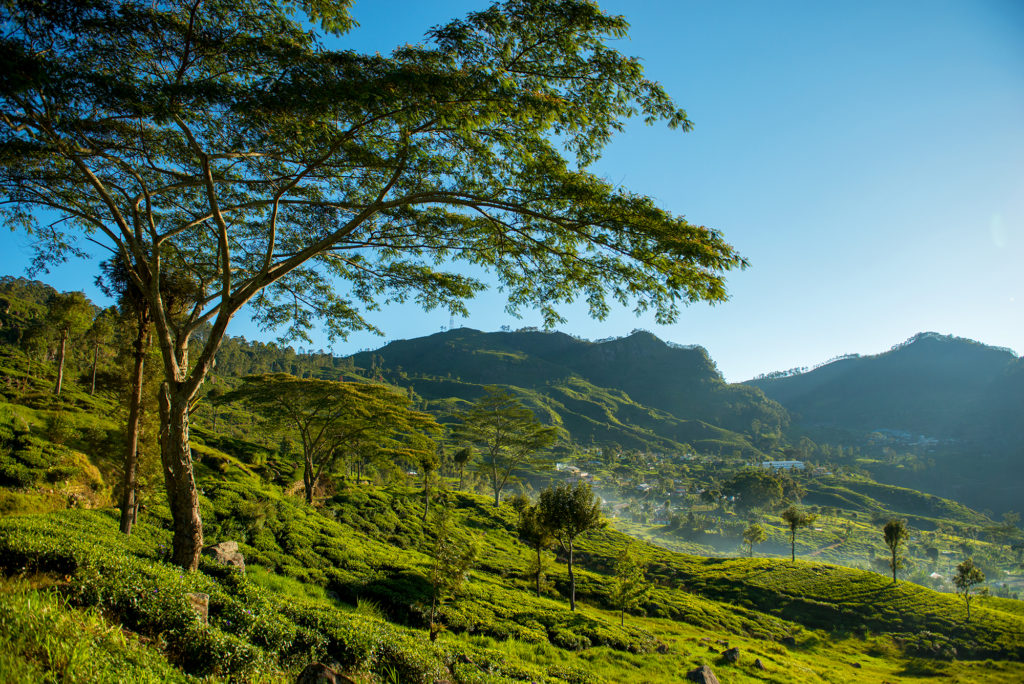 Family adventures

Sri Lanka is immensely diverse, so you'll easily find something to keep every member of your family happy. If you're after an educational trip, you can delve both into the country's rich history and life in the present day, touring rural villages and meeting local families. If you're looking for adventure, why not try cycling, trekking, canoeing or white water rafting? Alternatively, sip a cocktail on a beautiful beach while the kids play cricket on the sand.
Wildlife and birds

Sri Lanka is a nature-lovers' paradise. The whole country feels alive: the tropical air buzzes with insects, the undergrowth teems with lizards, monkeys, and much more. Most tourists flock to Yala, the most famous of the country's National Parks, but it can often feel over-crowded- and there are many fantastic alternatives. Gal Oya, for example, provides a unique boat safari that allows you to ride alongside swimming elephants. To spot leopards, head to Wilpattu or myriad exotic birds at Sinharaja or Bundala.
Historical and cultural sites

The main cities in Sri Lanka are cultural hubs brimming with history. As the highlights often get busy, we like to show people the key sites with a bit of a twist. For example, why not climb Pidurangala for a different, quieter view on the famous Sigiriya? Or discover a unique perspective on Kandy with our tuk tuk tour, visiting hidden temples that are lesser-known but every bit as impressive.
Hill country- away from Nuwara Eliya and the tourist trail

Most first-time visitors to Sri Lanka will, understandably, want to see the beautiful hill country. We explore a lesser-visited side to the hills, creating a more authentic Sri Lankan experience. The Southern hills of Bandarawela, Ella, Koslanda and Haputale are enchanting spots with beautiful waterfalls, views, walks of all levels of difficulty and, of course, a lot of tea. The hills are also a great place to truly unwind; those keen to get under the skin of Sri Lanka may consider staying at one of these eminently relaxing spots over a stay at the beach.
Unique properties

Sri Lanka is home to a fantastic range of characterful accommodation, from rural homestays to modern hotels to luxury boutique properties. If you want to get back to nature, try a stint in the Mudhouse, a small, relaxing eco-lodge that brings you into contact with rural Sri Lankan life. Alternatively, discover Sri Lanka's heritage at Tea Trails, a colonial planters' bungalow that epitomises luxury in Sri Lanka.
Weather

Sri Lanka is a genuine year-round destination: there will always be warm weather and sunshine somewhere across the island. October to November is technically classified 'monsoon season'. While it can get wet, this is mainly to the North-East of the island and many travellers still choose to travel around this time. As a general rule, the South has the best weather during our winter and the East is best during our summer.
Off beaten track

If you're keen to see a different side to Sri Lanka, we'd encourage you to venture from the tourist trail. Over the past 3-4 years, the country has become far more accessible. The intriguing city of Jaffna, for example, has only recently opened up to tourism; visitors will discover warm people, interesting architecture and impossibly fresh seafood. This is also an amazing time to head to beautiful, untouched rural spots. Abode, for example, is a unique community tourism programme based in a remote village accessible only by a three hour trek.