According to a recent survey, Costa Rica is one of the happiest places in the world to live, its certainly a fantastic place for a multi centre holiday, particularly for nature lovers.
Environmentally aware, the whole country aims to be carbon neutral by 2021 and many of the properties enjoyed by guests are eco lodges.
A holiday to Costa Rica is a multi centre adventure where you get up close to nature in a number of ways.
With dense rainforest, hundreds of colourful bird species and the Caribbean and Pacific Ocean lapping on its shores, Costa Rica is a real tropical paradise. Much of the country has national park status and the scenery is fantastic with active volcanoes and beautiful beaches. Offering the ideal opportunity for exploration and relaxation, you can visit the jungle waterways of Tortuguero, head to the volcanic hot springs at Arenal or just adopt the attitude of a sloth and lay back on a pristine palm fringed sandy beach.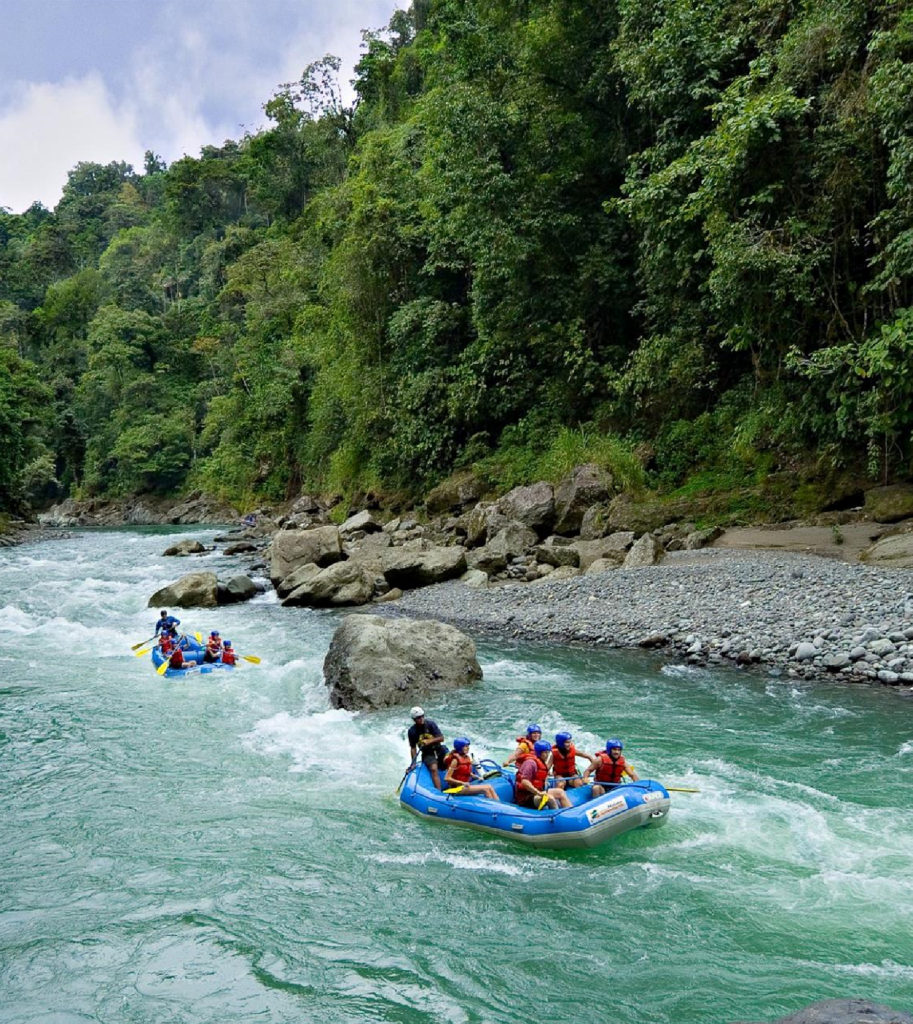 San José & The Central Valley
The modern capital city of Costa Rica, San José is located in the central region at an altitude of 1150 metres and is a pleasant place to spend a couple of days. Visit the many markets, the grand Opera House or marvel at the treasures on display at the Gold Museum.
San José also makes a great base for exploring the surrounding countryside. Go rafting on the lively rivers, walk amongst active volcanoes, shop at craft markets and visit coffee farms.
Tortuguero National Park
Tortuguero is one of the world's most important turtle breeding grounds and is therefore of major environmental significance. Turtles can be found here throughout the year; however the summer months of July and August see the greatest activity. At this time tens of thousands of baby Green Turtles hatch on the beach and propel themselves en-masse down towards the sea.
Far smaller numbers of hatching Hawksbill and Leatherback Turtles can be seen between July and October and March to June respectively. Turtle viewing occurs at night-time and on raised platforms so as not to trouble the newly born turtles.
Venture inland and there is a good network of walking trails along with a series of waterways that allow great access to the rainforest. Over 300 species of bird have been recorded and there are a great number of brightly coloured frogs and toads along with mammals such as sloths, anteaters and the elusive tapir.
Arenal National Park
Although small, Costa Rica is home to a number of active volcanoes. Without doubt the most famous and indeed impressive of these is the magnificent Arenal Volcano. Dominating the surrounding skyline, Arenal is perhaps best viewed from the comfort of one of any number of hot springs that feed off the natural sulphuric waters of the volcano or from one of the luxury lodges in the area.
Monteverde Cloud Forest
Visit Monteverde and you will be able to experience the wonders of the cloud forest. Enormous vine and creeper clad trees shoot up towards the light, while over 400 species of bird can be seen darting in and out of the forest canopy.
The best way to explore the park is from above and an aerial skyway has been constructed which allows you the opportunity to study the whole ecosystem at close quarters. Walk from bridge to bridge looking out for birds such as the wonderful Resplendent Quetzal with its multi-coloured metre long plumage. If you prefer to keep your feet on the ground there are many well marked paths to take you across the forest floor.
Turrialba
Situated 65 kilometres east of the San José, the beautiful region of Turrialba is washed by the pure waters of the Reventazón River. Here the rain that falls throughout the year has created a green collage of primary forests, biological reserves, reforested areas, and extensive plantations of coffee, macadamia and sugar cane. It demonstrates a perfect balance between agricultural development and conservation.
With excellent kayaking, white water rafting and a huge biological diversity this region has becoming increasingly popular for travellers seeking adventure and wildlife.
Guanacaste
On the northern Pacific Coast, in the province of Guanacaste, you will find beautiful beaches of grey, fine dark, white and golden sands bathed by a blue sea of clear waters, rich in fish and sea birds. Here, the town of Tamarindo is the centre of tourist activity and an ideal place to laze by the pool, learn to surf or head out at night in search of turtles. Further south, the beaches around Sámara and Nosara are less developed and the area has a more low-key feel. Further south still and into the province of Punta Arenas and on the southern tip of the Nicoya Peninsula, the surfing beaches of Playa Mal Pais and Playa Santa Teresa boast rocky coves, white sand beaches and funky boutique hotels.
Manuel Antonio
Travel to the Pacific Coast for mile after mile of golden sandy beaches, tropical shoreline and luxurious hotels, perfect to relaxing at the end of your holiday. In the Central Pacific, you will find the beautiful Manuel Antonio National Park. This park is characterised by white sand beaches, cliffs, rivers, rain forests and a large variety of animal life including white faced capuchin, mantled howler and red-backed squirrel monkeys, two and three toad sloths as well as a number of species of birds.
Other popular beach areas along this stretch of the Pacific Coast include Punta Leona, Playa Jacó, Herradura, Playa Dominical and Uvita.
Caribbean Coast
For those who love pristine beaches, fishing, diving, surfing and snorkelling, Costa Rica's Caribbean coast is a little-visited paradise. The region has a laid back attitude and the unique blend of Latino, Afro-Caribbean and Bribri indigenous culture creates an atmosphere rich in fragrances, tropical rhythms and brilliant colours.
As well as stunning beaches, there is great marine wealth, green lagoons, imposing rivers, wide canals and wildlife refuges.
Osa Peninsula
Corcovado National Park represents Central America's premier stretch of coastal primary rainforest. Located in the south-west of the country the park was established in 1975. Home to numerous mammals including the elusive jaguar, there are hundreds of different tree species and nearly 400 different birds. Considering its importance, the park receives far fewer visitors than its counterparts in the north; there are only a handful of lodges and visitors are rewarded with a more intense jungle experience.
Ten miles off the coast, Cano Island is an incredibly diverse marine reserve. There is an abundance of life, including whales, dolphins and colourful fish along with a high concentration of coral.