I am often asked where I go on my own holidays, in 2013 I wanted to take my two teenage boys on a special holiday, to Canada. As is often the case on a family holiday, different needs have to be met so everyone has a good time, I wanted to be able to give my fearless sons some exciting adventures and some of the independence that I knew they would relish, while sharing the softer adventure experiences with them, and having some time to relax myself. To add to the challenge I didn't want to drive or go on an organised tour, this is how we did it….

Whistler
We flew into Vancouver and took what must be one of the most scenic transfer bus journeys in the world, up to the mountain resort of Whistler. While Whistler is famous as being one of the best ski resorts in winter, it is becoming just as popular for an active holiday in the summer.
The traffic free centre has an excellent choice of cafes and restaurants from sandwich bars to gourmet cuisine and plenty of shops. Both boys felt comfortable exploring by themselves and I was happy to let them have their freedom, while I had some time to relax.

Activities
Whistler is a magnet for cyclists and while we were there the whole resort was buzzing with the 10 day Crankworx bike festival.
My eldest son is a keen cyclist, he was captivated watching the professionals perform their downhill tricks in front of the TV cameras, and couldn't wait to get issued with the necessary body armour and professional bike before his lesson.
Preferring walking to cycling my younger son and I took the gondola up Whistler mountain and then the record breaking Peak 2 Peak gondola across to Blackcomb.
There are walks for all abilities in the mountains in summer, or for those just wanting to relax the views alone are worth the trip up to the top to enjoy a drink or meal in one of the cafes.

Ziplining
Ziplining was our next activity, while it exceeded my limited courage levels, both boys came back with huge smiles having spent several hours throwing themselves along vast zip lines between trees and over waterfalls, it was apparently 'awesome Mum'!

Canoeing
My personal 'awesome' came in the much calmer form of an afternoon canoeing with Whistler Ecotours. We were driven out to Alta Lake where I chose to share a canoe with our private guide and my younger son took his own kayak. By the time we had crossed the lake our paddling skills were assured and we set off down a short canal that led to the River of Golden Dreams.
Perhaps we were lucky that it was a quiet day but we had the river to ourselves and paddled quietly along for several miles, negotiating beaver dams and spotting wildlife along the way until we reached the aptly named Green lake, and our transfer back to the hotel.
Whistler has a wide range of accommodation from simple apartments to luxury hotels, many with indoor/outdoor pools for all weathers. There are numerous other activities including white water rafting, bear viewing tours, several spa's, and outdoor Scandinavian baths, it really is a great choice for a summer family holiday.

Vancouver
Taking the transfer back down the mountain, our next stop was a city stay in Vancouver. With its stunning setting between the sea and the mountains, and relaxed lifestyle, Vancouver has been voted one of the world's top places to live. The choice of what to visit is vast, there are beautiful public gardens, many varied museums and art galleries, theatres, numerous festivals throughout the year, whale watching and fishing, boat and yacht tours, beaches and several golf courses. Many people also visit Vancouver Island too but we had a limited time and due to the perfect sunny weather we chose to spend most of our time outdoors.
An easy city to walk around, there are also plenty of transport options for tired feet.
While the city is buzzing with life, it also has one of the largest urban parks in the world. Stanley Park is a 400 hectare park with an 8.8km circular cycle/walk seawall path. We spent a lovely day exploring the many trails with a combination of bikes, roller blades and walking.

Granville Island
A trip to Granville Island is a complete contrast, a lively area with local craft studios and shops, an ever changing background of buskers and street entertainers, some excellent restaurants, and the highlight for me, the public food market. Edible tours offer gourmet tasting tours of the market accompanied by a chef, a great experience for keen cooks.
We left Granville Island by the little Aquabus service taking us across the water of False creek back to the Yaletown area of the city. Here the boys admired the large yachts before walking back to our hotel via Yaletown's pedestrianised streets of bars and restaurants.

Grouse Mountain
Just 15 minutes north of the city over Lionsgate Bridge is the base of Grouse Mountain which attracts visitors year round. We turned our visit into an adventure as we decided to decline the cable car and undertake the famous Grouse Grind, a 2.8 kilometre climb up to 2800 feet, a challenging walk up the mountain through dense and very steep forest but with a view at the top that made it all worthwhile.
On the mountain there are entertaining birds of prey shows, lumberjack demonstrations, various activities and two resident orphan Grizzly bears in their nature reserve. For the less active there is a choice of dining options, or you can just relax and enjoy the views.

Capilano Suspension Bridge
Close to the base of Grouse Mountain, the Capilano Suspension Bridge is another highlight of a visit to Vancouver. First built in 1889, it is an impressive sight that takes you across to a peaceful rainforest, now home to the Treetops Adventure an exciting walk along elevated platforms and bridges above the forest floor. With nature trails and a nerve-wracking cliff walk over a glass walkway it is not surprising that Capilano is one of Vancouver's top attractions.
On our final day we visited traditional Gastown, home of the 100 year old steam clock before a visit to the new Pacific Centre Mall. Shopping in Vancouver should not be underestimated and my sons were delighted to find many of their favourite shops as well as some new ones, all less expensive than in the UK.

The Rockies
Despite visiting Canada several times I hadn't been to the Rockies so was determined to include it in our itinerary. I wasn't keen on driving so we took the Viarail overnight train service from Vancouver to Jasper. I think we we all a bit wary of spending a night and day in a triple cabin but it turned out to be great fun and will be the feature of a future blog.

Jasper
We arrived in Jasper in the afternoon, the boys had a swim in the pool as I took advantage of the excellent guest laundry room at our hotel. Canada is a great destination for family sized accommodation with one and two bedroom suites at reasonable prices in many locations.
It doesn't take long to explore Jasper, a true Canadian small town, we were delighted to see deer grazing near our hotel and an elk wandering along the roadside.

Whitewater rafting
Of the many activities available in Jasper, I chose Whitewater rafting, and the Heritage run on the Athabasca River with Maligne Adventures was the ideal choice for a first time outing. After extensive safety briefings we set off along the river under clear blue skies with Osprey nests in the trees and wildlife spotting opportunities along the riverbanks. The fast flowing river sped us along and every now and again we were instructed how to paddle to manage the approaching rapids and prepare for a soaking. The boys at the front of the raft embraced the water and loved every minute, and apprehensive as I had been before the tour, I thoroughly enjoyed it.
After 2 nights in Jasper we took the Brewster Glacier Adventure tour through the stunning Icefield Parkway to Banff, via a trip on the Athabasca Glacier, and Lake Louise. I've travelled extensively all over the world but the scenery travelling through the Rockies really is spectacular and the boys for once were not exaggerating when they called it "awesome ".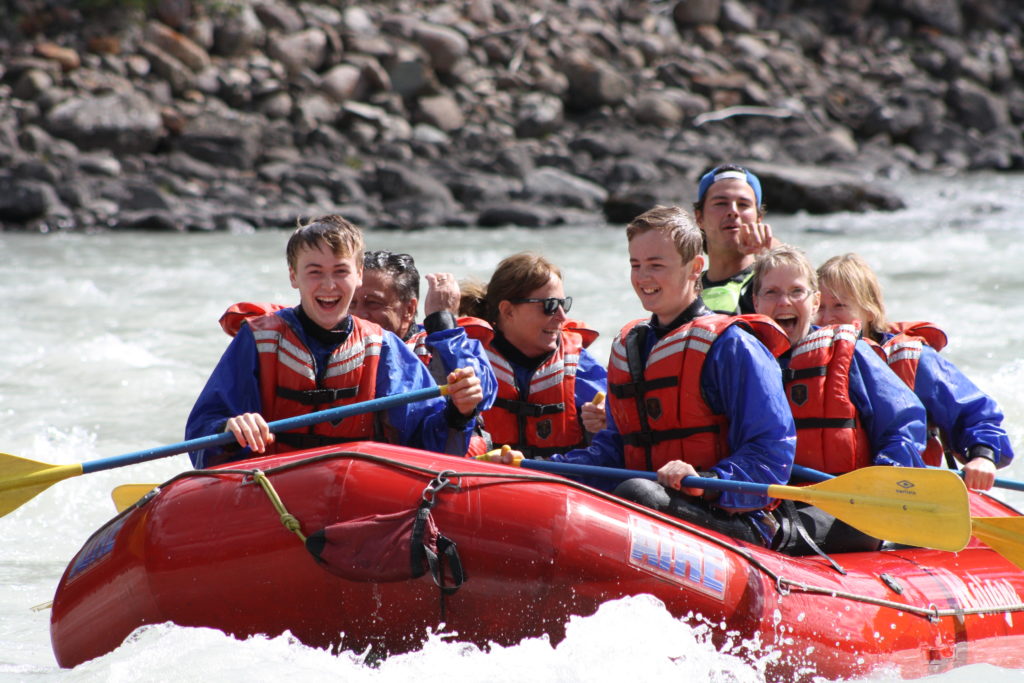 Banff
We ended our holiday with 2 nights in Banff, where we had our final ride up a gondola into the mountains. While the boys were sceptical at first about another mountain it was a different experience to Whistler and we spent the morning enjoying walking along the board walks, and being entertained by the unexpectedly tame and friendly ground squirrels.
Of the many activities on offer, the boys chose to spend our last afternoon kayaking on the river.
We flew home from Calgary, just a 2 hour transfer from Banff and all agreed that we had had a fantastic holiday, full of adventures and shared experiences that have created memories to last a lifetime.